Easter is a huge celebration in Greece and another perfect opportunity to cook a bountiful amount of luscious food!
Below are the recipes of Athens Food on Foot's Easter dinner!
Kali orexi!
Roasted lamb/goat: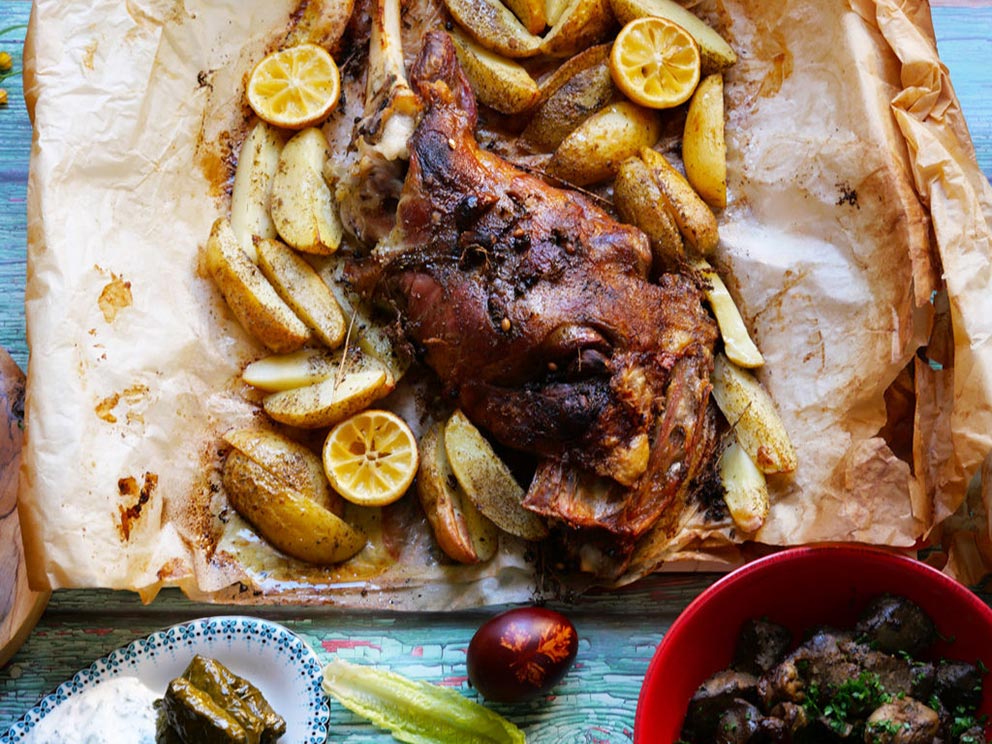 Lamb/goat 1.5 – 2 kilos, add your herbs and spices to the skin of the lamb, drizzle with olive oil and cover with baking paper.
Roast for 90-120 minutes (one hour for every kilo), at 180°C until golden and crunchy.
Uncover and add potatoes. Drizzle with more olive oil, salt, pepper and oregano, and cook for a further 40-50 minutes until the potatoes are golden and crispy.
Lamb or goat insides: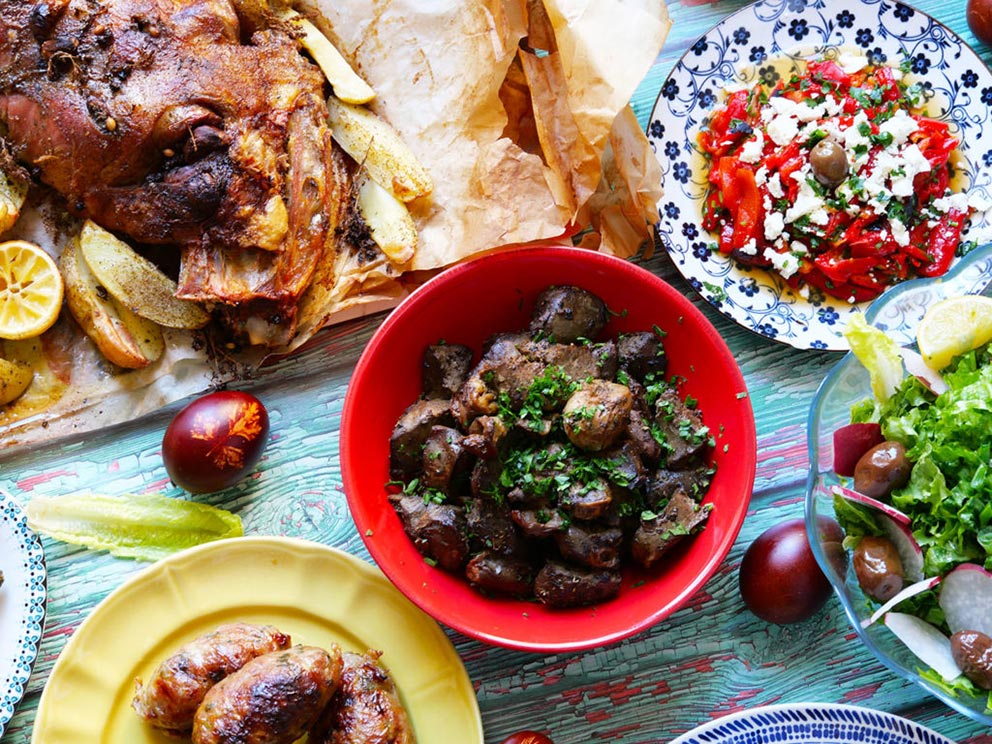 Cut: lung, heart, kidney and liver into pieces and cook in a pan for 20-25 minutes.
Add some olive oil, salt, pepper, oregano and a squeeze of lemon and continue to cook on high heat for another 10 minutes until all juices are absorbed.
Lettuce salad: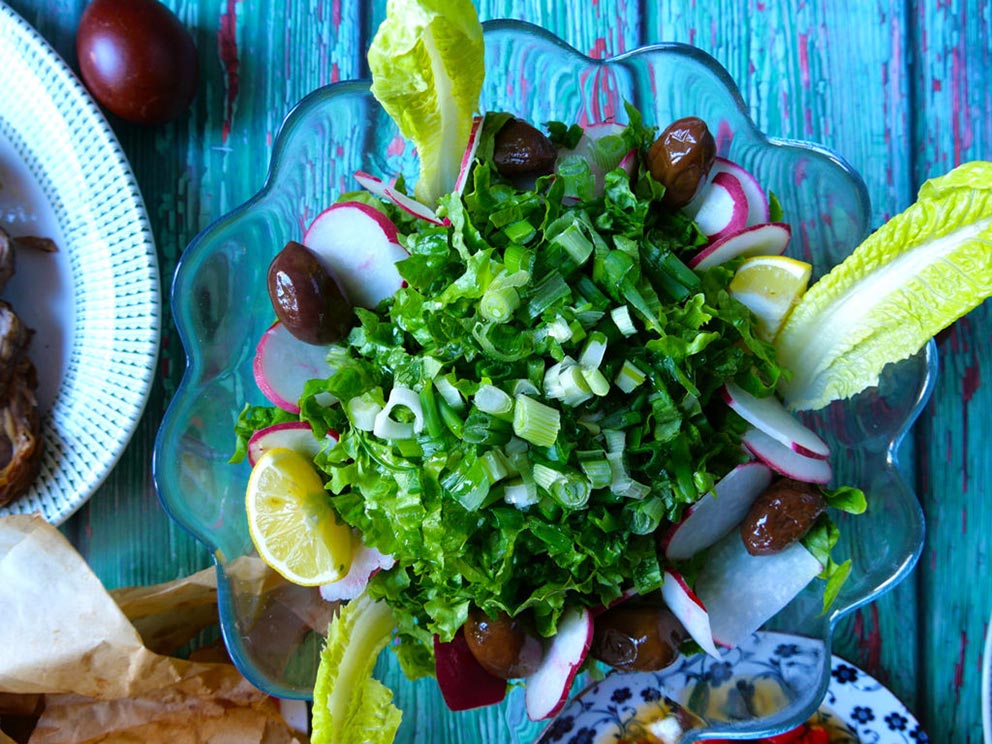 Mix shredded lettuce, chopped spring onion, olive oli, olives, a squeeze of lemon and a pinch of salt. Add some sliced radishes and olives for decoration.
Red pepper salad: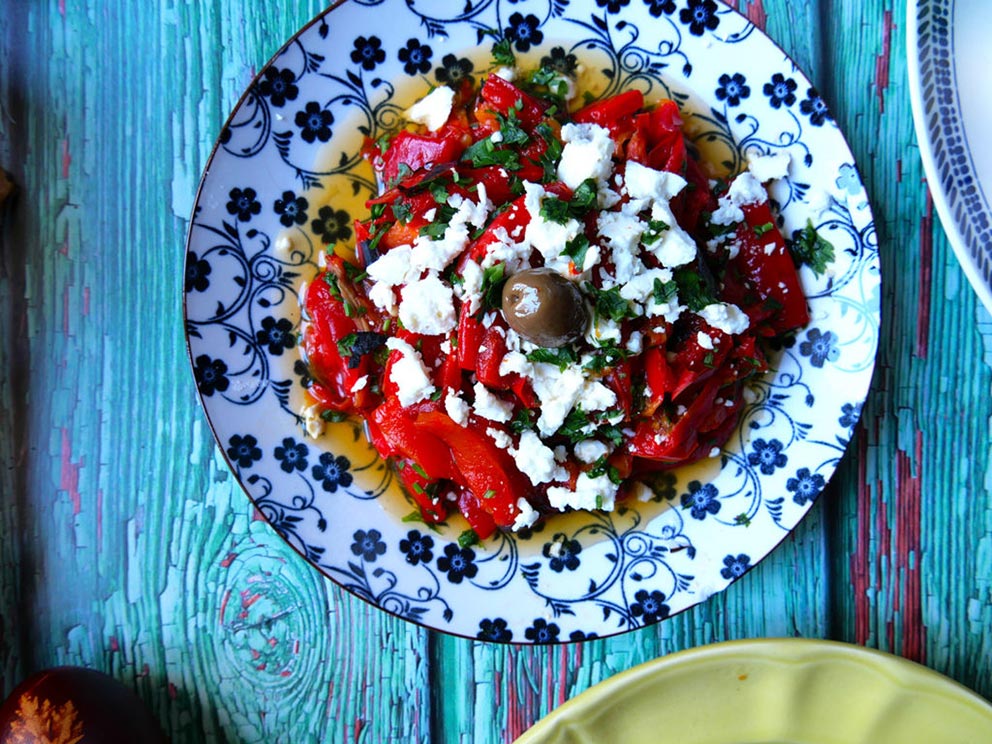 Grill red horn peppers until charred then remove the skin and slice. Add fresh dill, feta, vinegar, olive oil and a pinch of salt.
Eggplant salad: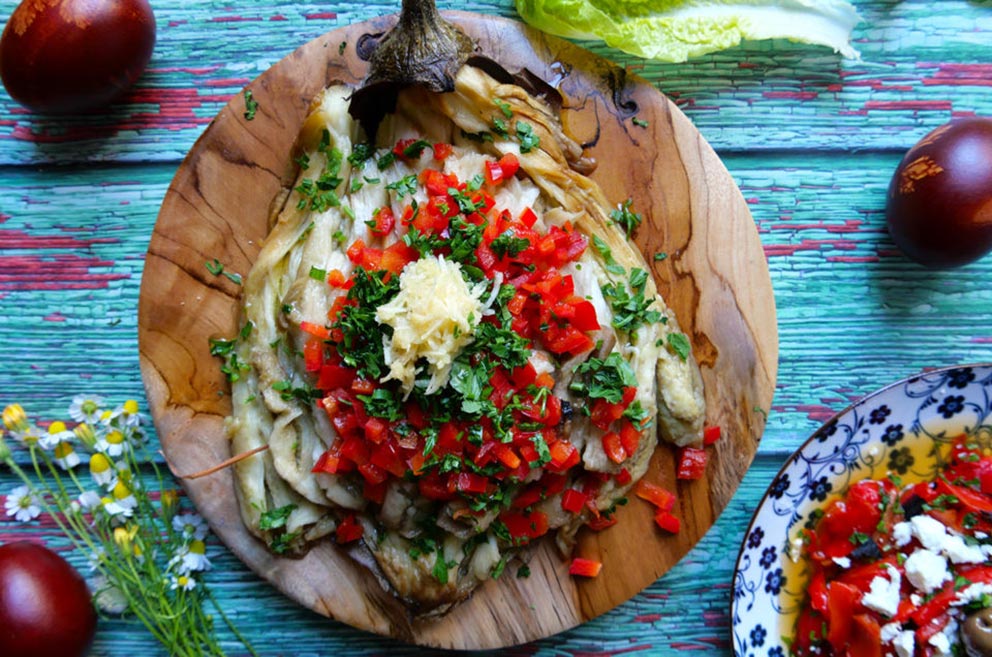 Grill eggplant in the oven on high heat. (When the flesh turns white and tender, it's ready).
Add a chopped red bell pepper, fresh parsley, a clove of grated garlic, olive oil and some vinegar.
Seftalies (a Turkish delicacy):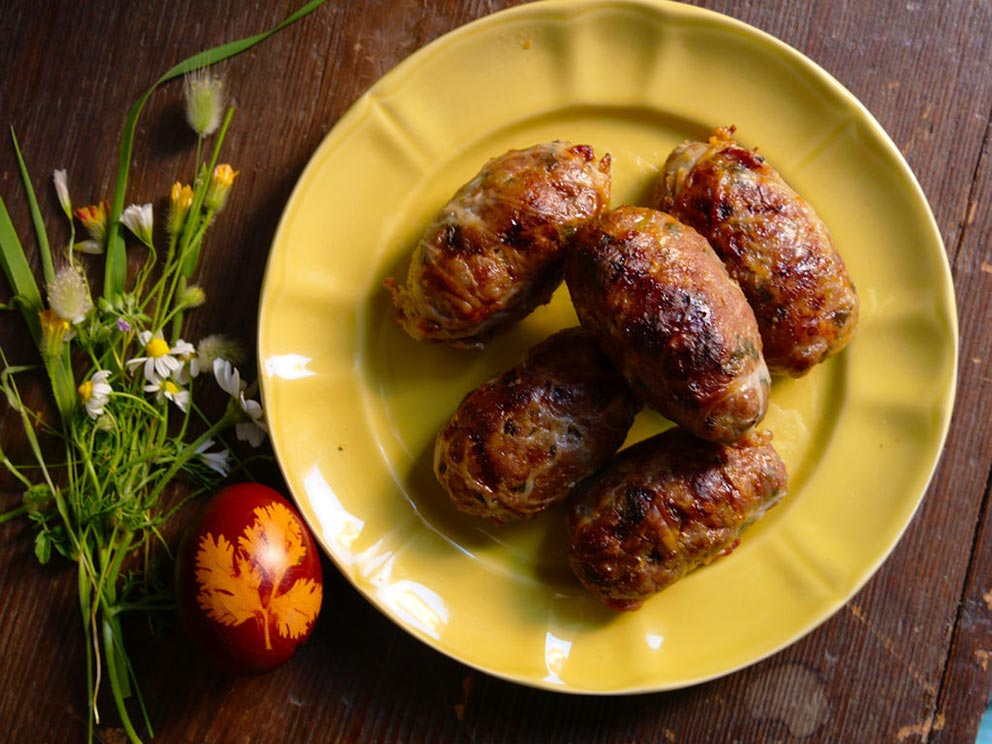 Place mince meat, diced onion and fresh parsley in a large bowl and mix well using your hands. (There should be an equal quantity of mince, onion and parsley, so adjust if necessary.) Add a pinch of salt and pepper and continue to combine well.
Lay a piece of caul fat on a chopping board. Roll a large golf-ball sized piece of mixture into an oval shape and place in the corner of the caul fat.
Roll and tuck in with your fingers (the caul fat should cover the mince one and a half times).
Repeat the above process with the remaining mixture. Place the Sheftalia tightly together on a relatively hot grill. Lightly season with salt.
Grill, turning and seasoning with more salt, for 10–15 minutes or until browned. (Make sure the heat is not too high and do not turn them too often or too early as the fat will stick.)
To watch how it is done, check out this video
Kokoretsi: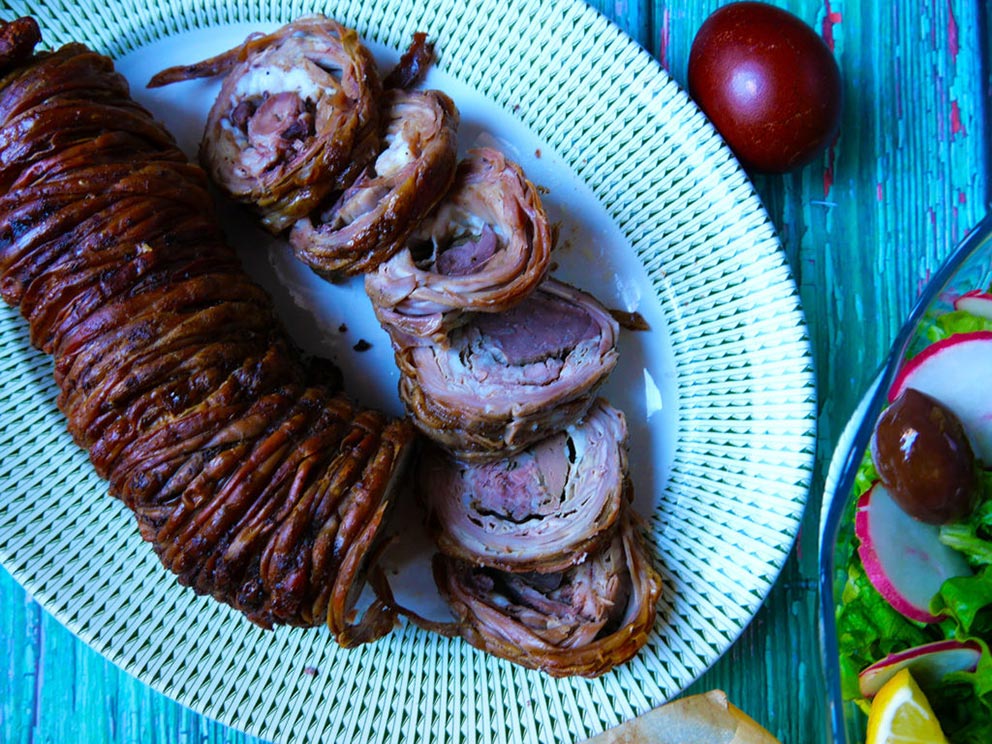 Wash the intestines thoroughly, both inside and out. Place in a large bowl and add vinegar and salt.
Allow to soak for 10 minutes and then rinse thoroughly. Drain, transfer to a bowl and refrigerate for 1-2 hours.
In the meantime, rinse lace fat thoroughly under warm water.
Place the lace fat in a bowl with water and lemon juice and soak for 30 minutes. Drain and set aside.
Wash the lamb pluck and chop into 4-5 cm pieces. Transfer to a bowl and add thyme, rosemary, chili flakes, oregano, lemon zest and pepper. (Do not add salt or it will toughen the meat.)
Set the lamb pluck aside to marinate for 1 hour. Preheat the oven to 200°C (390° F).
Take two metallic skewers and thread the pieces of lamb pluck onto the skewers in the following order : lungs, heart, liver, sweetbreads.
Season with salt and pepper.
Cut a piece of lace fat large enough to cover the whole skewer and wrap nicely over the meat.
Wrap with parchment paper and aluminum foil. Transfer to a 30×40 cm baking pan fitted with a rack and bake for 45 minutes.
When ready, remove the aluminum foil and parchment wrappings and bake again for 20 minutes until golden.
Watch the method on our video
Let us see your Greek Easter feast! Post your pictures and recipes on our Facebook page!
Why not try more of our recipes:
Dyeing Easter eggs here
Dolmadakia here
Tzatziki here
Enjoy!