Zucchini-fritters!
This simple ingredient recipe is light, delicious, and healthy! The crispy zucchini fritters are perfect as a starter or side dish and make a fantastic vegetarian mezze dish. It is also a great way to use up any leftover zucchinis you have lying about!
Ingredients:
500g zucchini- grated
1 small white onion- grated
2 eggs- beaten
50g fresh dill- finely chopped
50g fresh mint- finely chopped
2 tablespoons flour
2 tablespoons olive oil
2/3 zucchini flowers (optional)- finely chopped
100gr crumbled feta (optional)
Salt and pepper to taste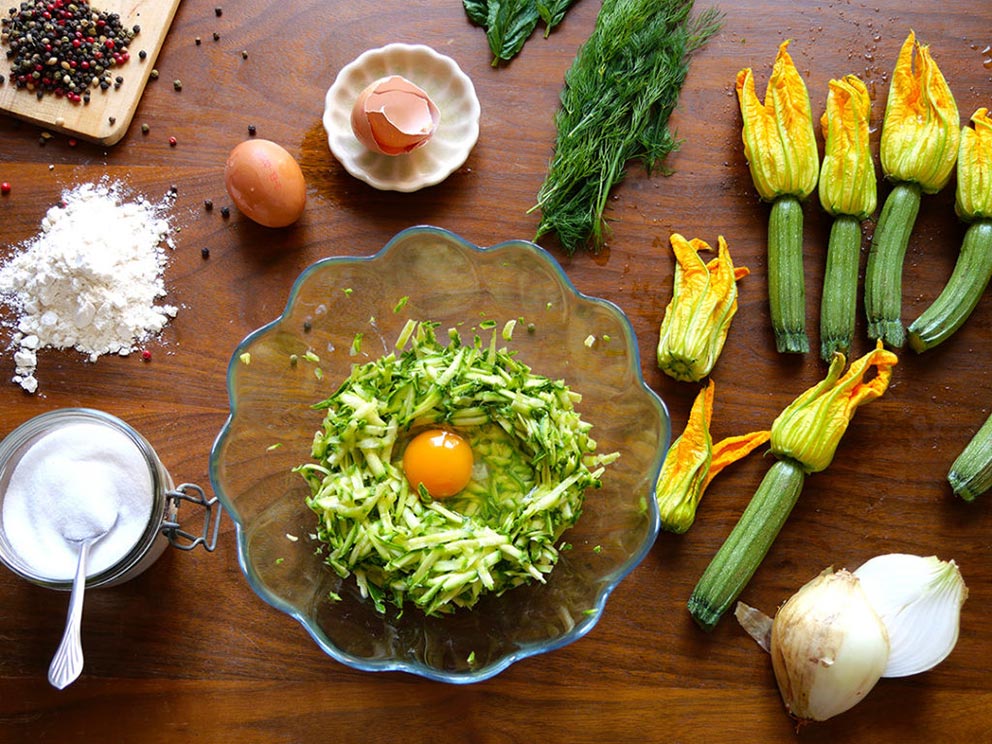 Method:
Place the grated zucchini on a dry chopping board/surface and sprinkle with salt to draw out the water.
Take the zucchini and after slightly squeezing it to drain out any remaining water, place it in a large mixing bowl. Add the grated onion and stir.
Add the remainder of the ingredients to the bowl and stir until well uniformed.
Heat a generous amount of olive oil in a large pan. Take a small scoop of the mixture and quinelle it between two hot spoons to form a small mound. Once a good shape, check the oil in the pan is bubbling hot, then place the quenelle of batter into the oil gently. Fry until golden brown. Repeat the process accordingly.
Top with fresh dill and serve with Tzatziki.
Kali orexi! Enjoy!